TT Printers and In-line Coders Service and Maintenance
We can service all brands of desktop and mobile thermal transfer printers, print n' apply systems, and in-line coding printers.
Here at Datamark UK, we offer a full range of on-site annual service contracts for all printing systems with a network of experienced industry specialist engineers who provide a first class service.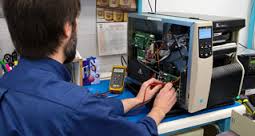 Datamark UK offer a wide range of support for all types of thermal transfer and direct thermal print systems. Our nationwide network of experienced industry specialist engineers provides a first class service.
Annual service contracts provide a fixed cost upfront allowing businesses to budget in advance for potential malfunctions to printing operations, whether these consist of single printers or hundreds of printers spread across multiple manufacturing locations.
Using us for your technical support ensures fast repairs, effective preventative maintenance routines and reduced downtime for you whilst at the same time helping you to reduce costs, improve service, grow sales and focuses your resources on your core day to day business activities.
That is why Datamark UK are trusted by businesses like yours to deliver the support, know-how, technical expertise and resources to get the job done. So for all your Thermal Transfer Printer (including Hand-Held & Portables) along with In-Line Coder Service requirements, why not give Datamark UK an opportunity to provide you with the level of support you have been craving.
Our technical services include: 
A full range of on-site annual service contracts
Ad-hoc on-site repairs without the need for a contract
Technical site-visit support for printing issues
All types of printer installations
Label printing software installations
Printer preventative maintenance
Print head installations
Back to base workshop repairs
Printer operator training
If you'd like to know more, then get in touch either by emailing us your questions or call Mark Newton on +44 (0)1482 506560 or on +44 (0)7805 553907 for a quote or to request a site survey.