Plain and Colourwashed Labels
Plain & colour-washed labels allow customers with the use of direct thermal & thermal transfer printers the ability to overprint their own information & barcodes, in house.
In order to deliver quality plain & colour-washed labels we have specialist converting presses purely for this purpose, operating wide web manufacturing with turret re-wind to facilitate the most efficient production of your labels, on core sizes ranging from 19mm to 76mm, at the very best price. Here at Datamark, we pride ourselves in providing an extremely rapid turnaround & in a number of instances when needed have been able to supply the very 'Same Day' assisting our customers to get out of sticky situation when they have needed to ship product urgently.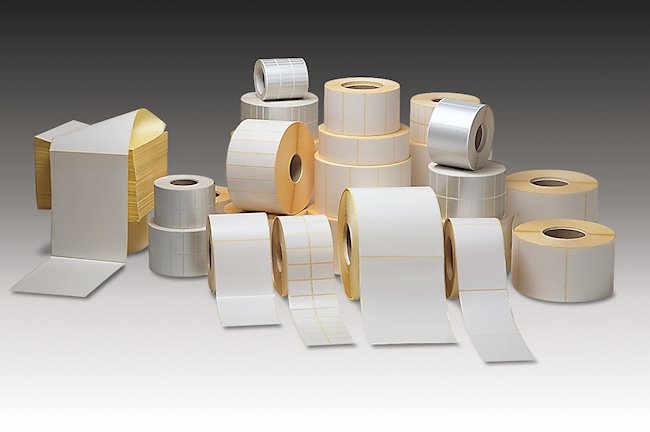 We produce & supply a wide range of white & colour-wash plain labels for both direct thermal or thermal transfer applications & are available in either roll, sheet or fan-fold format. The options are from general-purpose paper through to high performance synthetic materials for the most demanding applications.  Face materials available include coated or un-coated, with various material finishes including vellum, semi-gloss, silk, full gloss, data, litho & matt coated. Datamark UK also manufacture a range of products including Ritrama Jet Gloss labels for use in the latest wide range roll fed Ink-Jet printers.
From our extensive range of face paper's & synthetic materials, from some of the most popular UK & European manufacturers including Fasson, Herma, Lintec, Raflatac & Smith and McLauren to name a few. Datamark aim to suggest the most suitable thermal or direct thermal option to match your own individual label application ensuring best fit for purpose & suitability for your in-house overprint equipment if used.
Datamark provide labels using a range of adhesives from standard permanent adhesive through to a more highly aggressive hot melt adhesive for the most demanding applications. Removable adhesives include standard peelable for standard applications & ultra removable adhesives which leave no residue after removal (suitable for library's & window manufacturers).  Other adhesives available include cryogenic, deep-freeze, chill, water-soluble, blockout or opaque & ultra high temperature.
We also hold cutters of the most commonly used plain label sizes enabling us to offer extremely competitive prices for blank labels used in a wide range of industrial printers, desktop printers & other specialist applications. Because of this we are able to offer labels wound onto core sizes of 76.2mm, 44.45mm, 38.1mm, 25.40mm and even 19mm for those portable & handheld printer applications which are in wide use in a variety of environments now. Please advise us of your winding & core details when ordering!
If you have a requirement for a specific face material or adhesive, then give us a call and provide us with the details, and we are confident that we will be able to provide an answer suitable for application to most surfaces including plastic, metal, cardboard and films.
Alternatively please click here  to download a product questionnaire for any label application you may have and forward your completed document to Datamark at sales@datamarkuk.com and we will aim to provide a solution.
We offer an exceptionally fast delivery & extremely competitive price for both our plain & colourwashed labels, with a quality & service that is second to none. Individual bespoke orders are always welcomed but our most typical applications include:
Barcode labelling
Outercase labelling
Box end labelling
Pallet labelling
Logistic and distribution labelling
eCommerce
Promotional labelling
Print & apply labelling
Variable data labelling
For customers requiring Plain or Colour-Washed Labels please call the Datamark Team as we are the UK's specialists in this field, at the Office on:
+44 (0)1482 506560 or +44 (0)1482 505101
Or email us your requirements by using the contact form displayed to the left or clicking the following link sales@datamarkuk.com
For any special requirement you would like us to quote for, please click here to download a product questionnaire for any label application you may have & forward your completed document to us at sales@datamarkuk.com
Alternatively email our Sales Manager Mark Newton at mark@datamarkuk.com or call:
Home Office No:  +44 (0)1743 366695
Mobile No +44 (0)7805 553907