News From Datamark UK Ltd
The following News articles are the latest from Datamark UK in bringing to you our up to date additions to our product range and other News which we feel is of relevance to any of our customers or prospective customers.  We aim to keep our customers as much up to date with any News worthy articles we feel will be of interest and of course developments within Datamark UK with any News about products added to our portfolio.  So for the latest Datamark UK News check us out here.  Use the links to recently added items on the right below and to check out items from a particular month or year then select the relevant period on the right below from the archive.  We aim to bring you as many News items as possible going forward: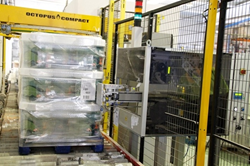 Datamark UK, based in Hull East Yorkshire are delighted to announce our appointment as Distributor of Zetes Print n' Apply & Pallet Labelling Solutions. This move into Automated Print n' Apply systems as Distributor of Zetes Print n' Apply & Pallet Labelling Solutions will not only strengthen Datamark's position within existing customers, but also open new doors for volume plain label and Thermal Transfer Ribbon business for us said Mark Newton (Sales Manager). Zetes Print n' Apply & Pallet Labelling Solutions provide solutions for a wide variety of applications is why Datamark chose to work with them.  From standard Print n' Apply onto cartons or outer's to specialist applicators capable of applying labels onto more difficult products regardless of its shape or size including: Bread and Packs of Rolls Flowers Tins Cylindrical Containers Labels are printed in real time and immediately applied to the relevant product.  The label can contain highly individual information for any of the specific products being labelled, including: Barcode Weight Batch Number Expiration Date Date and Time of Processing The MD Labelling solutions from Zetes provide some very key benefits, such as: Standard models, as well as product specific applications Easy to maintain and replace Easy integration into any production line Information which has been processed immediately passed to your WMS/ERP system Direct integration and communication with other business software Datamark sees the Zetes Print n' Apply & Pallet Labelling Solutions as a key area for increasing our business within the Manufacturing, Logistics and Distribution markets. With the need today to print one or more labels to identify your pallets, with stops along the transport line...
Archives
April 2023
M
T
W
T
F
S
S
« May
1
2
3
4
5
6
7
8
9
10
11
12
13
14
15
16
17
18
19
20
21
22
23
24
25
26
27
28
29
30