The history of the barcode from the mid-1970s to the mid-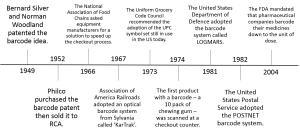 1990′s.
Barcodes such as the Universal Product Code (UPC) have become a widely used component of contemporary society, as evidenced by their enthusiastic usage by stores world-wide; almost every unit other than fresh green goods from a grocery store, department store, and mass merchandiser has a UPC barcode on it.
Economic studies were conducted by the mid-1970s for the grocery industry committee that projected over $40 million in savings to the industry from scanning. Those numbers were not met in the time frame they projected and some were said to have expected the demise of barcode scanning. The usefulness of the barcodes required the adoption of high-priced scanners by a critical mass of retail merchants while manufacturers were adopting barcode labels at the same time. Neither wanted to move first and outcomes were not promising for the first couple of years, with Business Week exclaiming "The Supermarket Scanner That Failed."
Barcodes have opened the door to a revolutionary way of tracking business assets. A barcode provides automatic data capture which reduces human error during data entry, saving time and expense due to errors and manual entry.  By 1980, the barcode was introduced by over 8,000 grocery stores per year. 1980 also signified the year that the first thermal transfer printer that was introduced by Sato.
In 1984, the Los Angeles Olympics chose Computer Identics to track and control access and security with barcodes. By 1984, several businesses had already kicked off the barcoding industry into what we now know it to be including:
Bar Code Graphics, Inc.
Express Identification Products
ATM Tech Solutions
Barcode QLD
Progressive Microtechnology, Inc.
Alliance Asset Tags
In 1987, David Collins left Computer Identics to start the Data Capture Institute (DCI), the first company dedicated completely to bar code education and advanced bar code and IT integration. Later DCI purchased Mac-Barcode software and forms subsidiary, The Mac-Barcode Company.
In 1989, the popular 2D code PDF417 was introduced by Symbol

Technologies.
In 1994, the checkerboard symbology known as Data Matrix was invented by International Data Matrix, Inc. (ID Matrix) and eventually covered several ISO/IEC standards.
In 1996, the Federal Aviation Administration (FAA) awarded a prime contract to Data Capture Institute for tracking and control of operational assets in a program known as BCATS (bar code asset tracking system). This program, which continued until the events of 9/11 deflected funding, became the prototype for the DoD's IUID mandate.  We will have more information on the development and integration of the IUID mandate as well as the future of barcodes in Part 3 to come.
Click the link to read our next article in our Barcodes series.